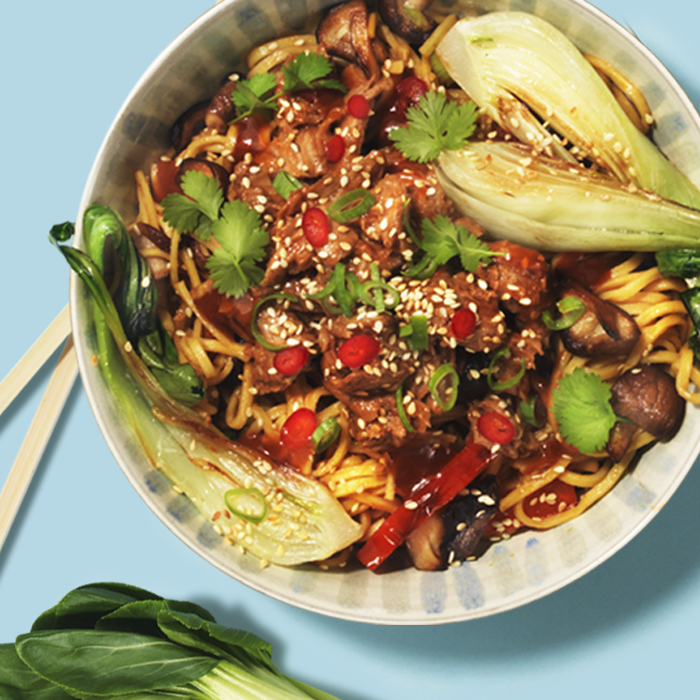 Sweet, sour and lovely spicy flavours.
Serves 4
3 tbsp ketchup
2 tsp ground ginger
1 tsp sesame oil
2 tsp sriracha
4 tbsp Japanese soy sauce
2 tbsp rice vinegar
1 clove of garlic
600 g VegMe Pulled Original
350 g rice noodles
1 bunch scallions
100 g shiitake mushroom
4 pak choi
1 paprika
1 clove of garlic
roasted sesame seeds
coriander
fresh chili to taste
Mix ketchup with ginger, sesame oil, sriracha, soy sauce, rice vinegar and pressed garlic in a big bowl. Add VegMe Pulled. Cook the noodles according to instructions. Shred the scallions. Cut the mushroom into smaller pieces if large. Cut the pak choi into quarters. Shred the paprika. Put oil in a wok and fry the pak choi golden, then take it out. Fry the mushrooms and scallions together. Press the garlic into the pan and stir. Add paprika. Toss the noodles and VegMe Pulled in the pan and stir. Serve in bowls and sprinkle sesame seeds, coriander and chili on top.