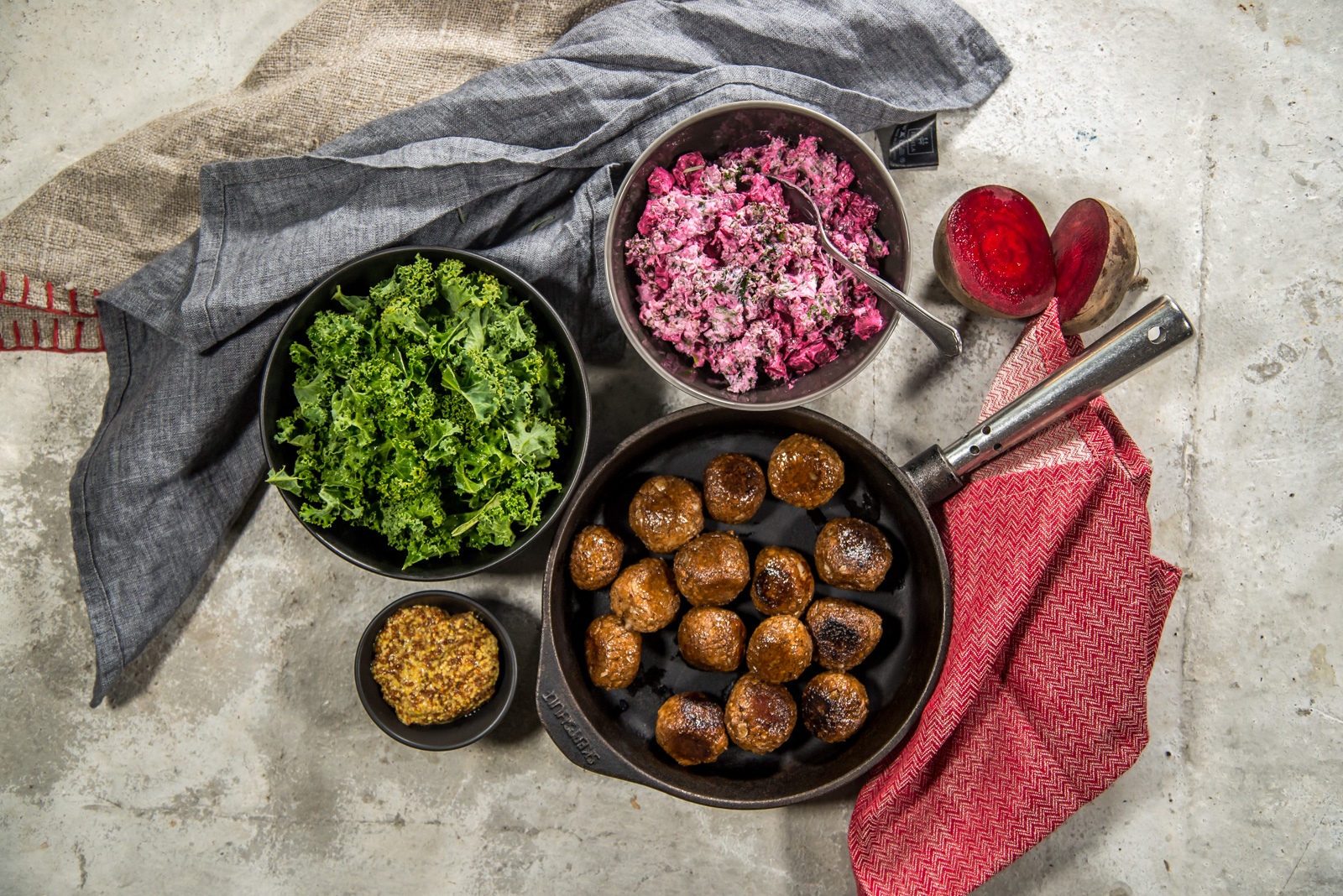 Ingredients
1 pack VegMe Mince Original
1 yellow onion
1 dl breadcrumbs
1 dl water
1/2 dl potato flour
1 1/2 tbsp shallot fond
1 1/2 tbsp Dijon mustard
1/2 tsp allspice
1/2 tsp ginger, grated
1/2 tsp cloves, grated
Salt and pepper
Beetroot salad
1/2 kg whole, pickled beetroots
50 g kale
2 tbsp grated ginger
1 1/2 dl plant-based creme fraiche
1/2 dl VegMe Mayonnaise
Salt and pepper
Instructions
Vegan meatballs
Peel the onion and chop finely.
Mix breadcrumbs and water in a mixing bowl. Leave to soak for a few minutes.
Add the onion and mince. Mix. Add the rest of the ingredients and season with salt and black pepper.
Roll the mince into balls. Fry in vegetable fat or oil. Stir and roll until they get a nice, even colour.
Beetroot salad
Grate the beetroots. Remove the stem from the cabbage and tear the leaves into smaller pieces. Put in a mixing bowl and add ginger, plant-based creme fraiche and mayonnaise. Season with salt and black pepper.
Serve the veggie balls with the beetroot salad.
Tip:
– Use the VegMe Beetroot Salad if you prefer not to make your own.
– If you want to make the veggie balls less Christmassy, you can remove allspice, grated ginger and cloves. Just use salt, black pepper and possibly a bit of thyme.