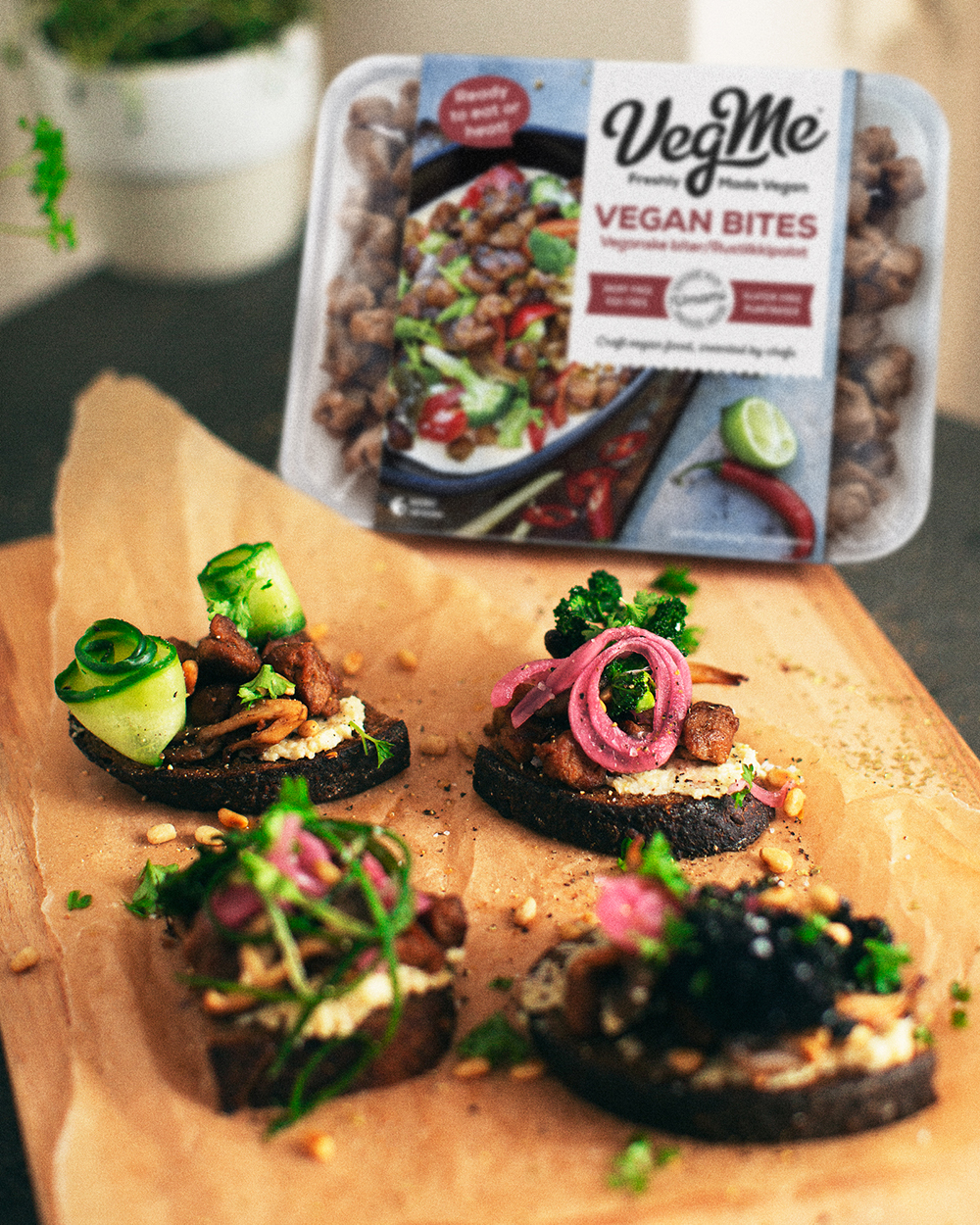 About 12 pcs
1 dark rye bread
1 pack of VegMe Vegan Bites
350 g artichoke tapenade
250 g oyster mushrooms
Olive oil
1 fresh chilli or chilli powder
1 clove of garlic
Salt
Pepper
Zest from 1 lemon
1 large bunch of fresh parsley
30 g pine nuts
100 g kale
Pickled vegetables
1/2 cucumber
1 red onion
1 dl vinegar
2 dl sugar
3 dl water
Mix vinegar, sugar and water and bring to a boil. Pour into two small bowls and add thinly sliced cucumber to one bowl and thinly sliced red onion to the other. Let it cool and place in the fridge for 1 hour.
2. Heat oil in a pan and fry the chopped chilli and garlic on low temperature until soft, for about 1 minute.
3. Add the oyster mushrooms and fry until it has released its water and gotten an evenly golden colour.
4. Set the mushrooms aside. Without cleaning the pan, fry the Vegan Bites until golden and add the mushrooms. Set aside.
5. Massage the kale with olive oil and salt, put in the oven at 200 degrees for a few minutes until it becomes a bit crispy.
6. Roast the pine nuts in a dry pan until golden. Keep stirring throughout.
7. Cut the rye bread into slices and split in two. Fry lightly in olive oil and set aside.
8. Spread a generous amount of tapenade on the bread once it has cooled off and top with the mushroom mix.
9. Garnish with the pickled vegetables, kale, pine nuts, salt, pepper, lemon zest and parsley.
10. Serve immediately.