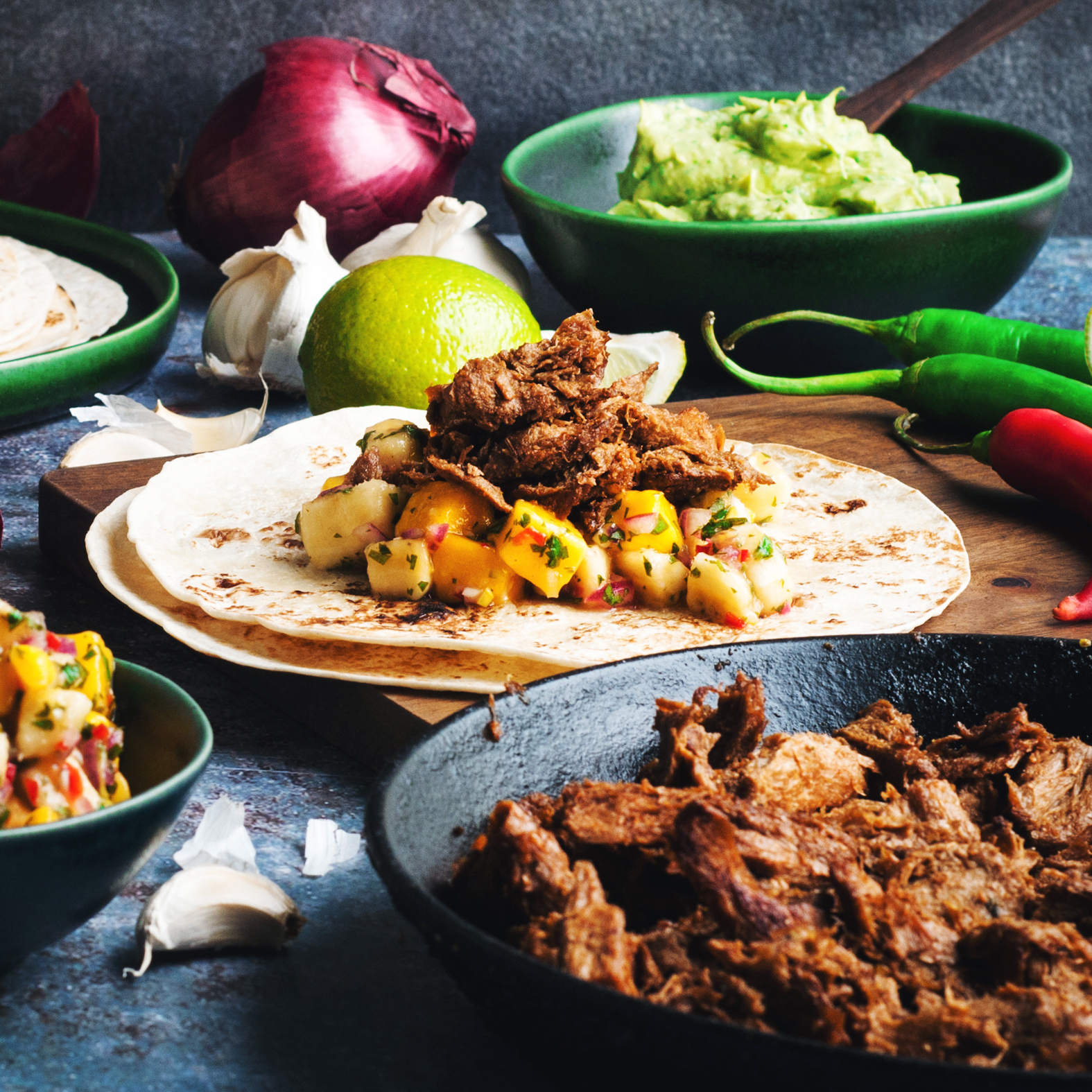 Luxury tacos with VegMe Pulled Original. Season with cumin and coriander, serve with a mix of chilli, banana and mango.
Serves 2-4:
1 package of VegMe Pulled Original
1.5 tsp salt
1 tsp chilli powder
1 tsp paprika powder
0.5 tsp cumin
0.5 tsp coriander
0.5 tsp onion powder
0.5 tsp garlic powder
0.5 tsp oregano
0.5 dl rapeseed oil
1. Mix the spices and oil thoroughly in a large bowl.
2. Add VegMe Pulled and stir properly, leave to soak for a while.
3. Fry on medium heat until everything is heated.
Hot salsa with banana and mango
200 g banana (2 pcs)
200 g mango (1.5 pcs)
1 red onion, small
1 clove of garlic
1-2 chilli peppers, red
1 dl coriander, fresh
1 lime
Salt
1. Peel and dice the banana and mango.
2. Finely chop the red onion, garlic, coriander and chilli to taste.
3. Squeeze the juice from the lime and mix everything in a bowl.
4. Season with salt and chilli. Leave for at least 10 minutes, preferably overnight.
Mild guacamole
200g avocado (2 pcs)
0.5 lime
0.5 clove of garlic
0.5 dl parsley
2 tbsp creamy oat fraiche
Salt
Black pepper
1. Peel and cut the avocado into smaller pieces.
2. Squeeze the juice from the lime.
3. Finely chop the garlic and parsley.
3. Mash thoroughly with a fork or mix all ingredients in a blender until smooth.
4. Season with salt and black pepper.