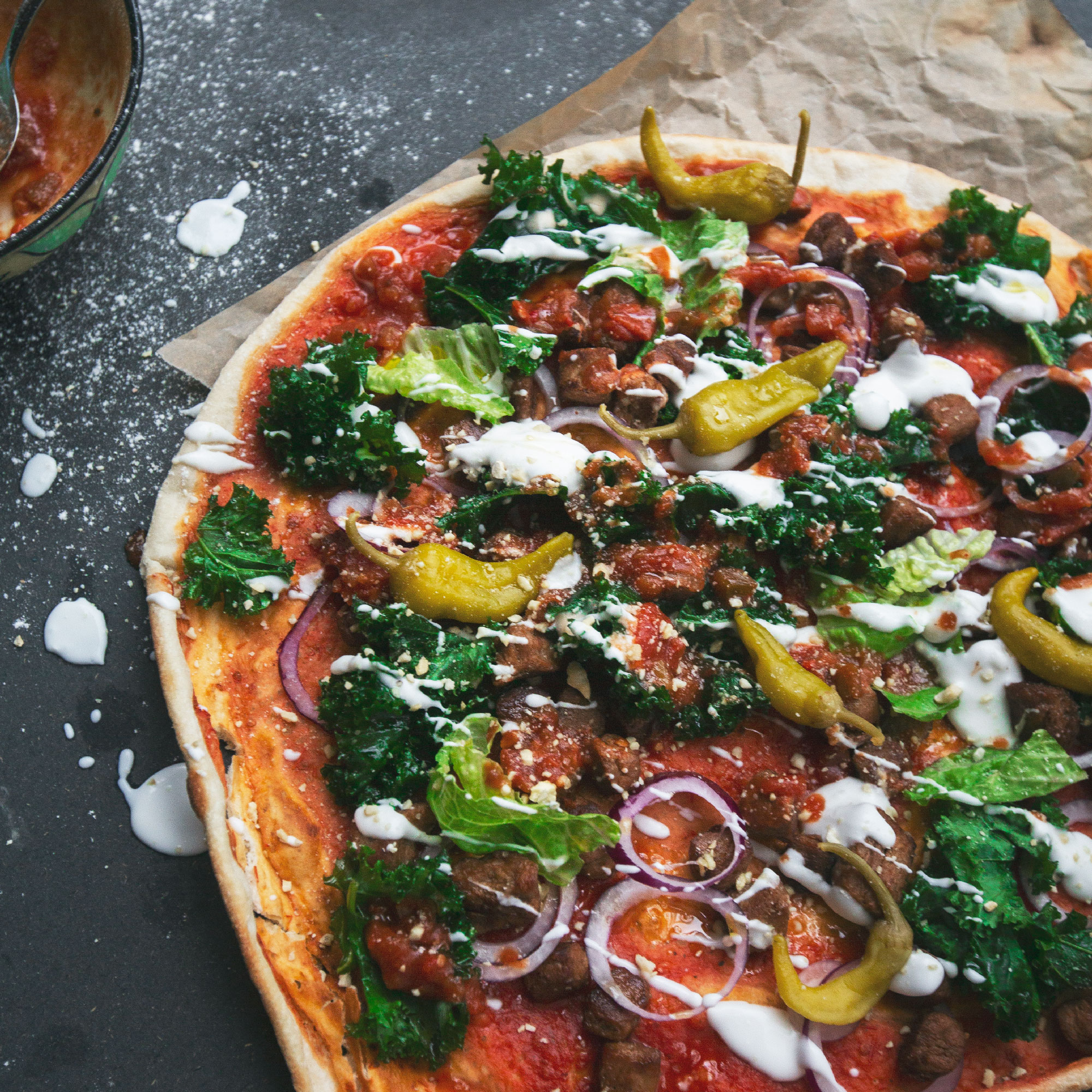 Serves 4
Pizza dough
25 g yeast
3 dl lukewarm water
1 tsp salt
1 tbsp olive oil
7 dl wheat flour
Tomato sauce
390 g crushed tomatoes
1 tsp oregano
1 tbsp red wine vinegar
Salt and black pepper
Topping
1 pack VegMe Vegan Bites
1 handful of kale
1/2 red onion
4 peperoncini peppers
White pizza sauce
1 dl oat creme fraiche
1 tbsp VegMe Mayonnaise
1 pressed clove of garlic
Salt and black pepper
Pizza dough
Set your oven to 250 °C.
Dissolve the yeast in lukewarm water in a mixing bowl. Add salt, olive oil and wheat flour. Work the dough for around 10 minutes using a kitchen aid, or for 15 minutes by hand. Split the dough into four pieces and form round dough balls. Leave to rise under a tea towel for around 30 minutes.
Use a rolling pin to roll out the dough for pizzas of your desired size and then place on baking trays lined with baking paper.
Tomato sauce
Add crushed tomatoes, oregano and vinegar to a saucepan. Bring to a boil and leave to simmer for around 5 minutes. Mix the sauce until smooth and season with salt and black pepper.
Spread the tomato sauce on the pizzas and bake in the lower part of the oven for around 8 minutes.
Unload the pizzas from the oven and top them with lightly fried VegMe Vegan Bites, red onion, lettuce and peperoncini peppers.