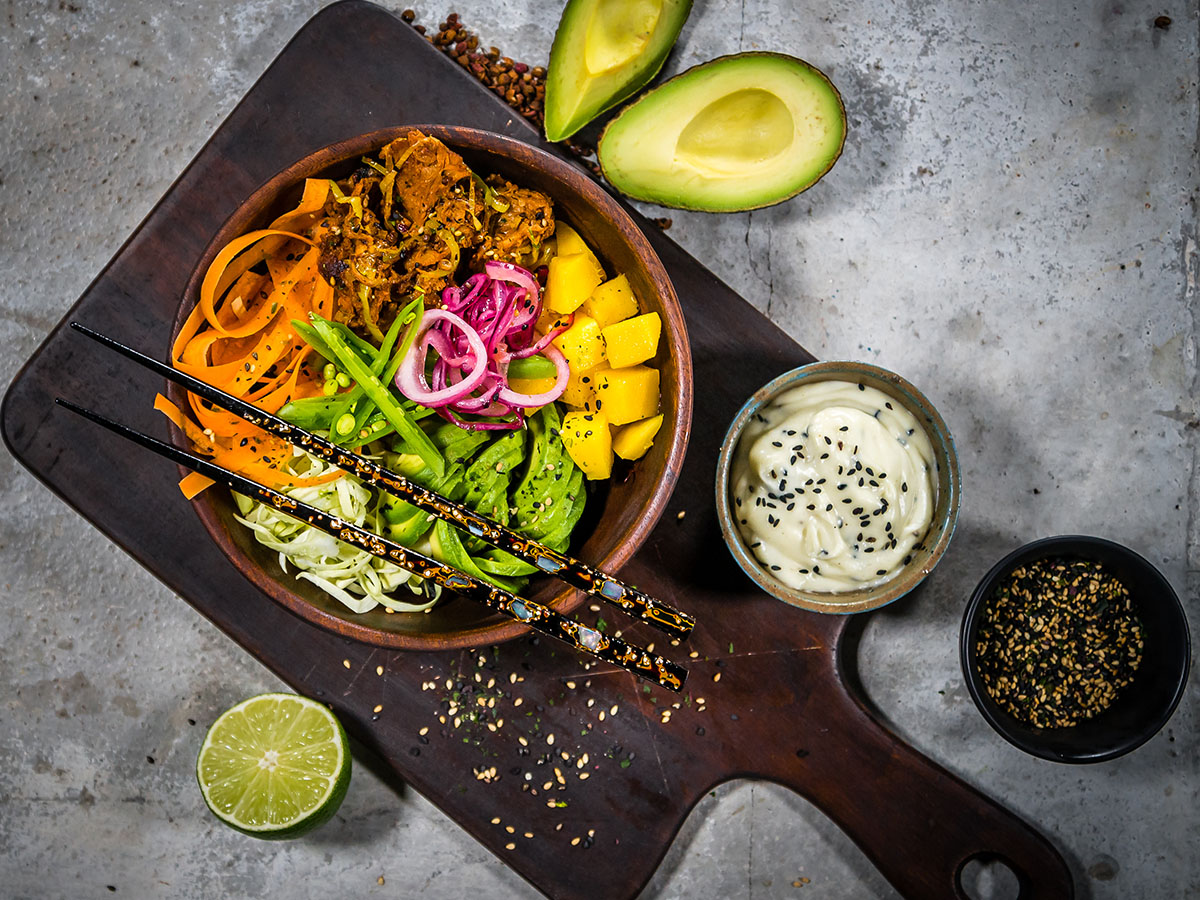 Cooking time: about 45 minutes
Serves 4
Pickled onion
1 red onion
Juice from 1 lime
2 tbsp olive oil
1 pinch sea salt
Noodle salad
1 package glass noodles (á 100 g)
30 g algae salad
Sesame oil
Wasabi sauce
1 jar VegMe Aioli
1 tbsp of wasabi paste
1 tsp sesame seeds, preferably black ones
Spicy VegMe Pulled
1 package VegMe Pulled Original
1/4 leek
1 tsp Sichuan pepper
Zest from 1 lime
1/2 dl Japanese soy sauce
Oil for frying
Topping
Point cabbage
Carrot
Mango
Sugar snaps
Avocado
Furikake or sesame seeds
Instructions
Pickled onion
Peel the onion and cut into thin slices. Place in a mixing bowl and add squeezed lime juice, olive oil and sprinkle with sea salt. Leave to marinate for about 5 minutes.
Noodle salad
Boil the noodles according to the package instructions. Let the algae salad soak in water for 5 minutes and drain. Mix the salad and the noodles and drizzle with some oil.
Wasabi sauce
Mix the wasabi sauce ingredients together.
Spicy VegMe Pulled
Prune and rinse the leek. Cut into thin slices. Fry in a pan until soft. Add VegMe Pulled and season with Sichuan pepper, lime zest and soy sauce.
Put the noodle and algae salad at the bottom of a bowl. Add the spicy VegMe Pulled and top with neatly cut vegetables, pickled onion and sprinkle with some furikake or sesame seeds. Serve with the wasabi sauce.
Tip: Use vegetables for garnish depending on the season or your own preferences.