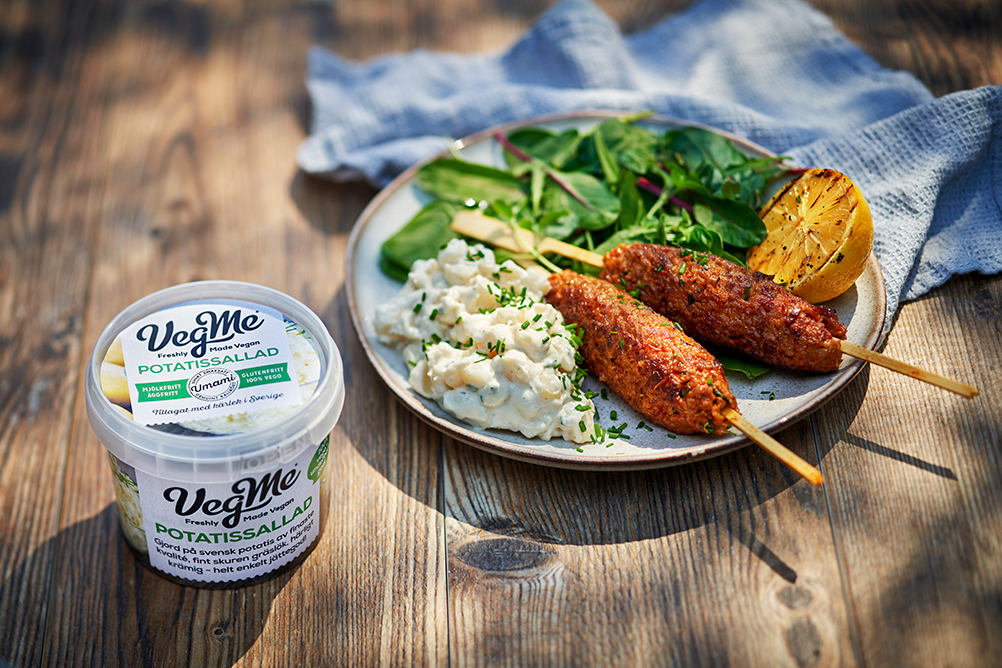 1 pack VegMe Mince Original
1 dl breadcrumbs
2 tbsp cornstarch
1-2 tsp sambal oelek
2 tbsp ajvar relish
0.5-1 yellow onion, finely chopped
1 dl plant-based unsweetened cream (e.g. soy or oats)
1-2 cloves of garlic
0.5 tsp thyme
0.5 tsp oregano
1 tbsp squeezed lemon
Salt and pepper
Optional: chopped fresh parsley
Instructions
Fry the finely chopped onion in the rapeseed oil until soft.
Mix mince, breadcrumbs, cornstarch, plant-based cream, sambal oelek, ajvar relish, spices, lemon and the fried onion. Leave to soak for at least 10 minutes. If the patties become too loose in structure, add some more breadcrumbs to your mixture and mix again.
Shape into "sausages" around thin wooden skewers. Grill/fry until the mince is cooked through and evenly browned.
Goes very well with the delicious VegMe Potato Salad.
Tip!
If you intend put the skewers on the grill, put them in water for a couple of hours in advance to prevent them from catching fire.