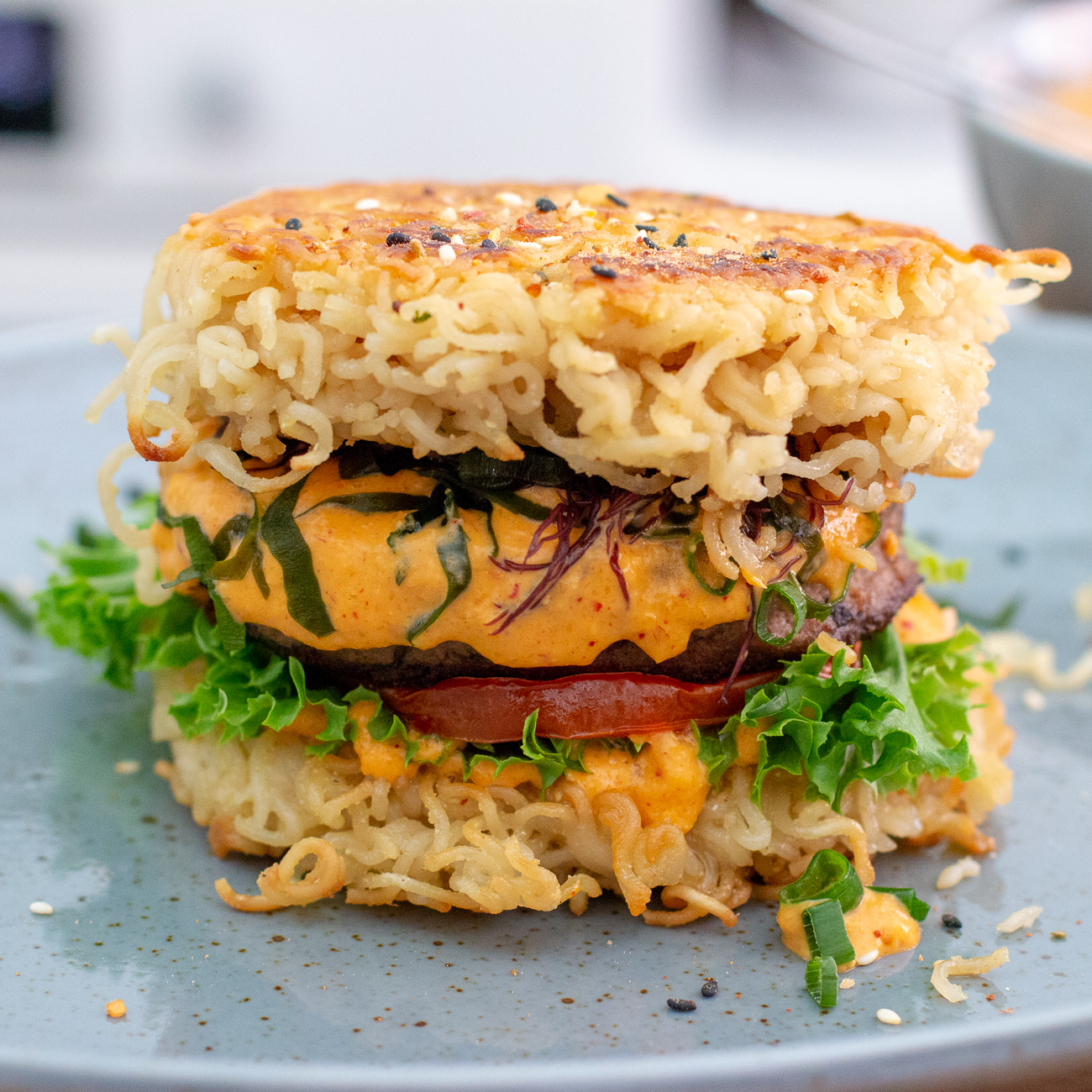 1 package VegMe Burger from peas and quinoa
Ramen bread
3 packages of ramen noodles, oriental or mushroom flavour, incl. seasoning packets
3 tbsp of chickpea flour
2 tbsp of aquafaba from chickpeas
2 tbsp water
salt and black pepper
Rapeseed oil for frying
Kimchi mayo
2 dl VegMe Mayonnaise
1 dl kimchi
Pickled onion
1 red onion
Juice from 1 lime
Semi-dried tomato
3 tomatoes
Furikake
Rapeseed oil
Other condiments
1 package wakame (dried seaweed salad)
2 fresh spring onions
Crisp lettuce
Instructions
Ramen bread
Boil the noodles together with their seasoning until al dente. Drain the water.
Mix aquafaba, chickpea flour, some salt and black pepper with water into a paste.
Mix the cooked noodles with the chickpea paste and stir until thoroughly mixed. If you are having difficulties mixing the flour with the noodles, add an additional tbsp of water.
Cut the noodles into four pieces of equal size.
Press them into a form roughly the same size as a hamburger bun. A small bowl or a large muffin tin might work.
Press the noodles so they fill out the form and make dense patties.
Leave in fridge for 20 minutes to solidify.
Fry the noodle patties in a generous amount of rapeseed oil on both sides until they are golden brown.
Kimchi mayo
Mix kimchi and mayo
Season with salt and pepper
Pickled onion
Slice the onion thinly
Add lime juice
Semi-dried tomatoes
Slice the tomatoes into 8 mm thick slices.
Put the tomato slices on a baking dish lined with baking paper.
Sprinkle with furikake and rapeseed oil.
Grill in the oven at either 200 °C for 20 minutes or 250 °C for 5-10 minutes, depending on the time, until they have gained some colour and shrivelled up.
Other condiments
Put the seaweed salad in water according to the package instructions.
Slice the spring onions.
Fry the VegMe Burger from peas and quinoa
Build the burgers
– A noodle bun on the bottom
– One dollop of mayonnaise
– One leaf of lettuce and two slices of tomato
– The burger and then a dollop of kimchi mayo
– Some seaweed salad and shredded spring onion, and then a noodle bun on top
Recipe and photo: Gustav "Jävligt Gott" Johansson