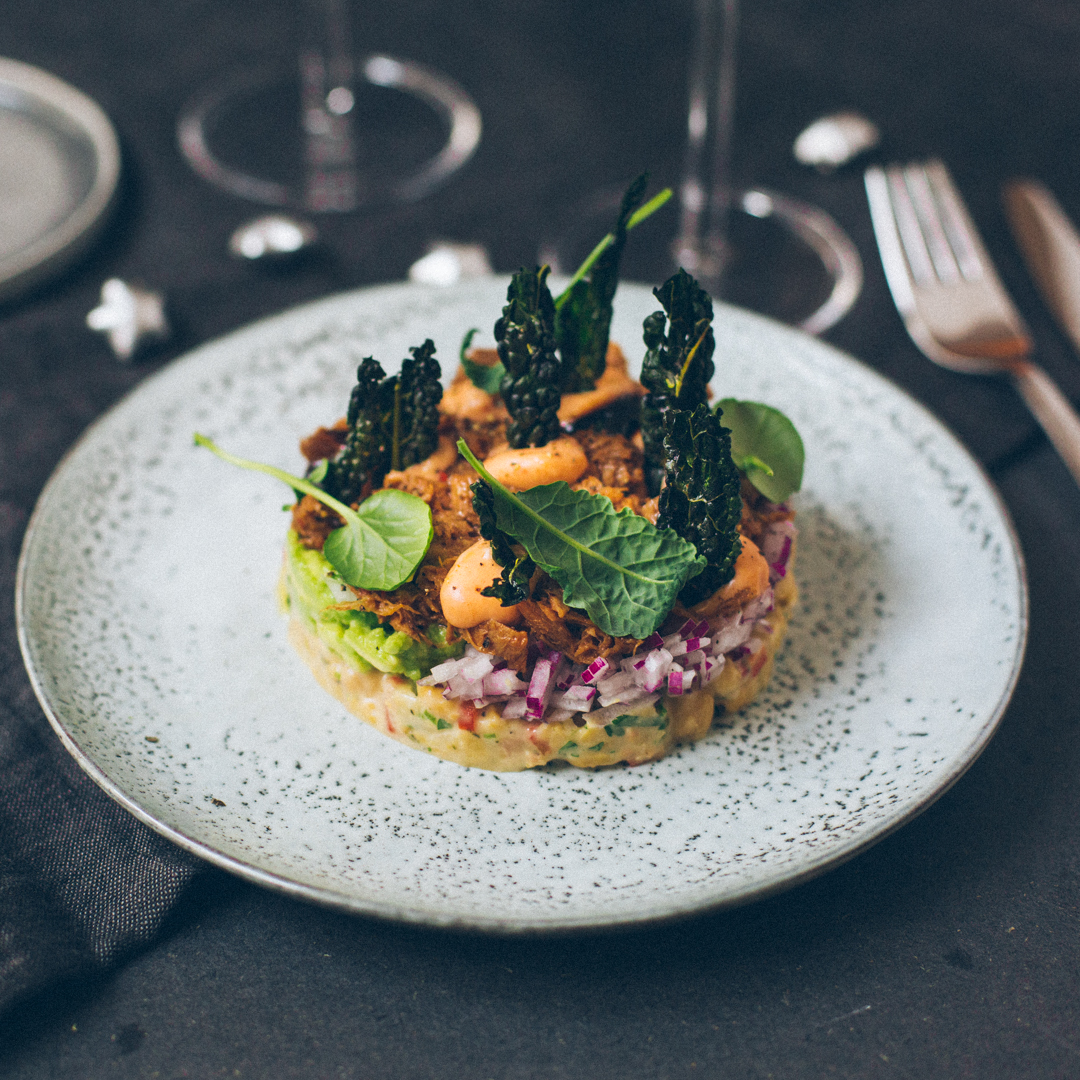 Serves 4
1 package VegMe Pulled Original
2 tbsp vegan BBQ sauce
1 bundle black cabbage
300 g canned chickpeas
1 red pepper
1 bunch coriander
1 avocado
1 tbsp juice from one lemon
1 red onion
2 tbsp olive oil
2 tbsp tomato puree
1 tbsp brandy
1 tsp salt
1 ml white pepper
1 jar VegMe Aioli
Instructions
Black cabbage chips: Preheat the oven to 120 °C. Tear the black cabbage from the stem and rinse. Make sure they are dry before drizzling them with olive oil and a pinch of salt. Massage the oil and salt into the cabbage. Place on a baking tray lined with baking paper. Cook for around 30 mins until completely crisp. Check in on them every now and then.
Chickpea mix: Drain the chickpeas, chop the peppers and coriander. Mix in a bowl. Add a tablespoon of VegMe aioli and stir. Season with salt and black pepper. Chop the red onion and set aside.
Avocado mash: Mash the avocado with lemon juice, salt and black pepper in a separate bowl. Stir.
VegMe Pulled: Chop VegMe Pulled Original and season with a little BBQ sauce, set aside in another bowl.
Sauce: From the remaining ingredients, mix the sauce and place in a piping bag if you have one, otherwise a bowl works fine.
Build your tartare directly on the plate using a bottomless round mould. Start with the chickpea mix, then the avocado mash, red onion and chopped VegMe Pulled Original. Finish by removing the mould and top the tartar with black cabbage chips and sauce.