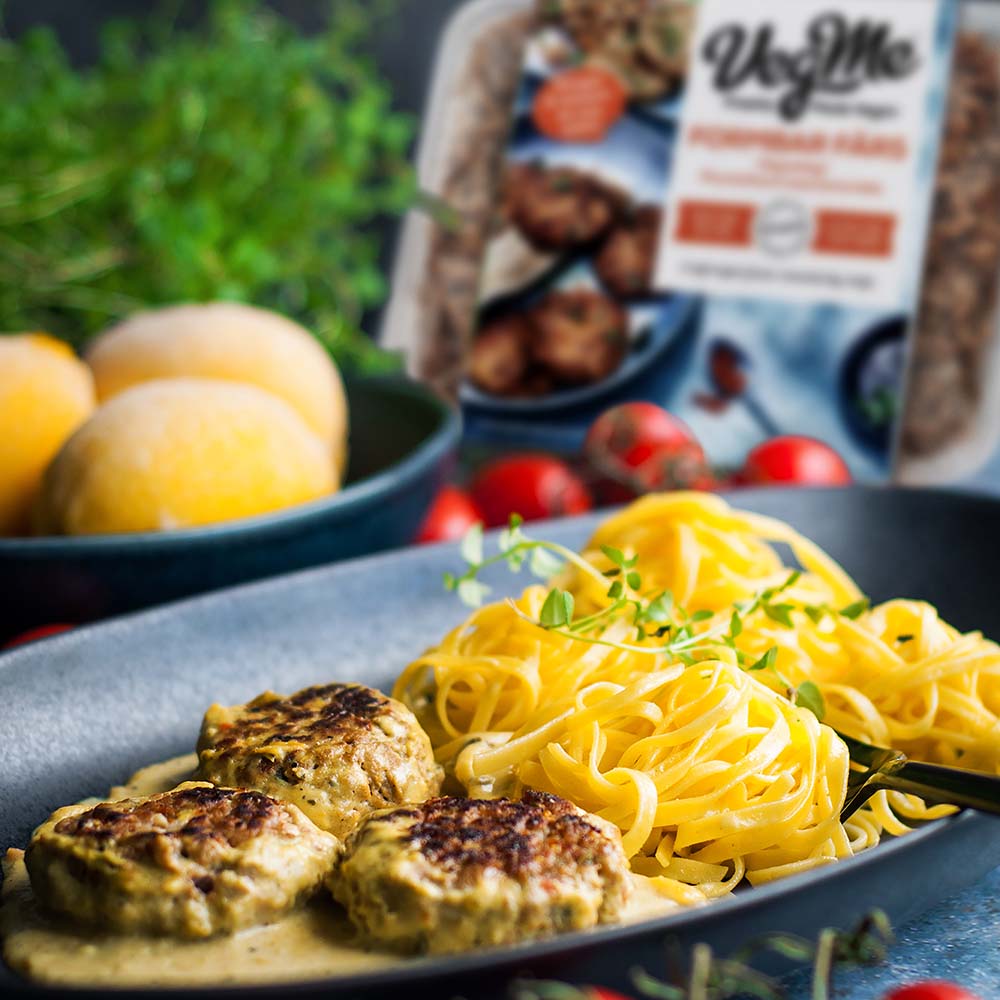 1 package VegMe Malleable mince
1 yellow onion, finely chopped
1 tbsp rapeseed oil
1 dl breadcrumbs
2 tbsp cornstarch
1 dl plant-based cream
1 tbsp soy sauce
1 small bunch of fresh thyme
Salt, black pepper
Fry the finely chopped onion in 1 tbsp rapeseed oil until the onion softens. Mix the fried onion with mince, breadcrumbs, cornstarch, cream, soy sauce and spices in a mixing bowl. Leave to soak for at least 10 minutes.
Shape the mixture into patties, fry for a few minutes on each side.
If the patties are too loose, add some more breadcrumbs to your mixture and mix again.
1 lemon
2 cloves of garlic
2 tbsp rapeseed oil
1 tbsp of vegetable stock (one cube)
1 tbsp wheat flour
1 dl water
2 1⁄2 dl oat cream
Salt, black pepper
Pasta
Cherry tomatoes
1 small bunch of fresh thyme
Squeeze the juice from the lemon and finely chop the garlic. Add 2 tbsp oil, half the lemon juice and the finely chopped garlic to the pan where you fried the patties. Add flour and stock while stirring.
Add cream and water, let the sauce simmer for five minutes. Stir every now and then. Season with salt, pepper and lemon juice. Place the patties in the sauce and let simmer for a few minutes.
Serve with pasta and cherry tomatoes, top with fresh thyme.